American Credit House, or ACH, has been a valued supplier of financial services for retailers since 1996. At the start, company founder Frank Becker's focus was in the credit card processing industry as an issuer of bank cards for several banks. National Sales Manager Mitzi Taylor, explains, "we became interested in the credit card merchant account acquiring side of the business after studying the market and finding it to be interesting. It has provided us with an invaluable perspective on the different types of businesses out there and how best to help make each of them more profitable. Our well trained reps' primary mission is to provide American entrepreneurs with the most cost-efficient solution to help them and their business succeed."
ACH offers Telecheck's Electronic Check Acceptance, or ECA, a process by which traditional paper checks are converted into electronic payments and deposited by the next day into retailers' business banking accounts. Even with the proliferation of debit card use, paper checks are still widely used and retailers are well advised to accept them as a form of payment from their shoppers. Taylor notes that "a recent Federal Study found that checks are still generally preferred by many people to pay for bigger sums such as car down payments, high end jewelry purchases. And businesses also use checks more in order to leave an audit trail. In rural areas throughout the country, checks are still the preferred payment method by many population segments and especially with seniors."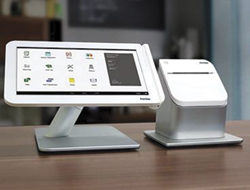 ACH's Automated Clearing House processes transactions daily in order to quickly and efficiently move check payments into retailers' bank accounts. "The nice thing about ECA is that a verified and warranted check with Stop Payment coverage lessens the possibility of a returned item. As a business owner, you can't get this kind of protection from a credit card transaction once it settles," Taylor adds.
ACH also offers the innovative Clover App Market and Clover Station, which allows retailers the freedom and flexibility of managing every aspect of their business, from payment processing to inventory control, employee scheduling and sales tracking, all from the convenience of a mobile app. ACH's Clover Station "is intuitive, easy to use and equipped with software that will improve your business. It's customizable to meet your needs so it will make an impact from day one and last for the long run," Taylor comments. The Clover system takes virtually every type of payment including EMV chip cards, magnetic stripe, and standard credit and debit cards. Backed by 24/7 Customer Service support and including built-in security features, the Clover platform helps to keep your data, as well as that of your customers, safe and secure through all aspects of the transaction.
Retailers interested in learning more about ACH's products can call 678-565-0482 and ask for Sales, or may visit the website to fill out a one page hassle-free application which can be faxed or emailed back to ACH. As a special promotion good until January 2017, mention this article in Independent Retailer when you sign up and ACH will waive all set-up fees and provide free state of the art terminal placements for credit and debit cards.