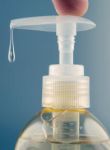 A unique company based in Boise, Idaho, Omega Tech Labs offers up a wide lineup of personal care products, including hand sanitizers, skin care creams, hair care products and even pet care items. What's unique is that, in addition to purchasing the company's pre-packaged line, it's also possible to personalize, with contract manufacturing being an option as well.
Contract manufacturing involves Omega Tech manufacturing the specific product of the buyer's choice, using a formula provided by the buyer if need be. Omega itself boasts an inventory of formulas, and the company will let the buyer know if the formula in question is one the company already has on site. From there, Omega can create the product and package it.
In addition, product personalization means that each customer company can have its own label and name on the products being purchased. Omega Tech is an FDA registered drug product manufacturer and labeler, and both product stability and container compatibility testing are available.
A minimum of 1,000 pieces is required for each order, with runs of up to 100,000 or more. Containers vary from a one-quarter ounce bottle to a 300 gallon tote. Customers even get to pick their own colors or fragrances if applicable.
Shampoo, facial cream, massage lotion, bath foam, and much more are available from Omega Tech Labs. Whether you go with the company's own branded product, or elect to make their products your own with personalized labeling and contract manufacturing, Omega Tech can be a valuable business partner for those in the business of offering personal care items to their customers.
Contact:
Omega Tech Labs
5069 Alworth Street
Boise, Idaho 83714
Ph: 208-375-5054
Website: www.omegatechlabs.com