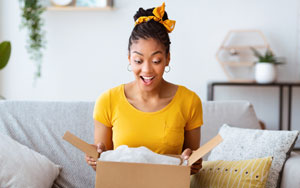 by Jamie Saucedo
You do not have to be a toddler to love the box as much as what is in it. The same can be said for businesses looking to gain market share. In an age of personalization, focusing on custom packaging can provide a measurable advantage at a much smaller cost than other personalized elements.
Unboxing videos are a major aspect of this trend, where a product spokesperson, customer, or social media influencer receives a package and records the process of opening and unpacking its contents. The brand whose items are inside then gains invaluable recognition as the recipient describes the experience of receiving and unboxing their product.
The key word here is experience. Opening a box full of bubble wrap or (get the vacuum ready) packing peanuts does not lend itself to compelling video content. What cements a product in the viewer's mind is the branded experience. This could be personalized tissue paper, a thematic wrap element, clever inlay design or custom selected product samples, to name a few. The same goes for a customer or gift recipient in real life. Whether online or in person, the end-user presentation is a critical component of the full brand experience.
Tissue Paper and ROI
The personalization trend has been on an upward track for the last five years or so, with some product categories diving in deeper than others. Baby gifts, for example, can be personalized with a name that can be added to just about any product. While the trend is projected to continue, with one market research study predicting that the personalized gifts market will reach $38.66 Billion by 2027, there is a significant cost involved for those companies. For example, personalizing a physical item typically requires tailored machinery and other expensive equipment on top of additional manpower and processing time.
Personalizing packaging, however, impacts only the packing phase of a pick/pack/ship operation and does not require costly equipment or timely processes. For a relatively small uptick in investment, specialized wrapping or messaging creates a sense of indulgence and adds a layer of luxury to any type of item, regardless of price point. Experience is the goal, regardless of the merchandise category.
Beyond the Box
Another layer of the personalization puzzle is ownership of the process, by both the brand and the consumer. For online shoppers, that customization could come at the online checkout point, where optionality might reflect, for example, the growing trend around sustainability. Given the option, consumers today are more likely to choose scaled-back packaging choices to be more environmentally conscious.
Communication options also provide a customizable channel. For example, allowing customers to request fewer or more frequent notifications during the purchase-to-delivery cycle. Likewise, enabling multiple channels for customer service such as chat, email and phone support allows customers to get the support they require, how and when they want it. On the brand side, owning the personalization process allows for the greatest agility to customize specific elements. While larger entities like Amazon are cited as leaders in providing speed and reliability, the "brown box" experience does not enable the kind of emotional investment and purchase experience that allows indie brands to stand out.
Executing at Scale
Once a retailer chooses, designs, and executes a customized packaging experience, proof of effectiveness must be tested in terms of whether it can effectively scale on the busiest day of the year — whenever this may be for a brand. When a business executes a customized experience program on their busiest day of the year, they are making a vital initial impression at a time when they have the highest concentration of new customers. Providing a premiere, brand-centric experience during peak periods makes the most of the opportunity a business has to capture shopper attention and convert them to long-term, loyal customers.
Data supports this shift — a PWC report states that 65 percent of U.S. customers find a positive experience with a brand to be more influential than great advertising, a testament to the power of creating a memorable interaction. Even simple personalization of product packaging lends to this more positive experience.
Across industry verticals, everyone is trying to solve the personalization equation. When that positive interaction is done well, and if it can be achieved through the nominal cost of custom packaging, businesses have the potential to move a larger market share into their direct-to-consumer channel — where a brand's biggest profit should ultimately be.