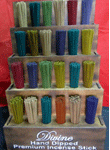 A well recognized importer and wholesaler on the East Coast, VD Importers, has made a name for itself through its extensive fragrance and scented product lines, which are imported directly from India. There are numerous wholesalers carrying fragrances and scented products, but very few actually import them directly from the source country. Among the more than 200 items available at VDimporters.com are its newest product lines, Divine Bulk Incense and Divine Perfume Oils. Offered at rock bottom wholesale prices, these products are a great addition to the candles, aroma oils and more that the company offers for less than $2 wholesale.
Divine Deals on Divine Bulk Incense and Divine Perfume Oils
"We sell to all sorts of outlets, from dollar stores to kiosks to gift stores and flea market vendors across both the U.S. and Canada," Gupta says. The 50 incense fragrances with associated colors, and 20 body oil fragrances provide retailers and other resellers with options to target their niche markets. Gupta, looking to help his customers target their customers, allows for mixed order product orders, as long as the $100 minimum is met. The loose incense sticks, 11 inches in length, are priced at $1.50 wholesale for a bundle of 100 and typically retail for $1 for 10 sticks, providing $10 profit for each bundle of 100. The perfume oils are available for $1.75 wholesale a piece, and can retail between $5 and $7.
A starter kit is only available for the perfume oils and includes 24 bottles of the 12 best selling fragrances at a price of $42. Some of the included fragrances are Lavender Dreams, Patchouli Forest, Victorian Rose, Jasmine Blossom and more. POP displays are available for both the perfume oils and incense. A counter display can be purchased for the perfume oils, while a free cardboard display is offered to those customers purchasing 100 bundles of incense sticks. For those retailers who call in response to this editorial, VD Importers will offer a 5 percent discount on you purchase. "We also offer special deals and promotions on our site every couple of months," Gupta says. No registration is required at VD Importers. Just log on and begin ordering.
For more information:
VD Importers Inc.
4960 NW 165th Street, Unit B20
Miami, FL 33014
Tel.: 305-620-2006
Website: www.vdimporters.com