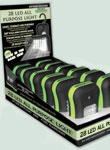 Whether for an electrical power outage or just for portable lighting, Promier Products is lighting the way. Promier Products operates out of a 90,000 square foot facility located in Peru, IL, and offers a line of high quality, affordable LED lighting that is energy efficient, bright, and a good source of cool light, says president and co-owner, Cody Grandadam. LED lights do not have a filament, and they generally last a long time without burning out. Because there is no filament, LED lights do not get hot, and require far less electric power than traditional incandescent light bulbs. "LED lighting is up to 80 percent more efficient than a traditional incandescent bulb," Grandadam says.
Grandadam, along with co-owners Michael and Tim Turczyn, recently launched the company after Grandadam worked for several years in the industry. "I spent a lot of time working in this field and I learned the industry," Grandadam explains. "When I was out of work temporarily, I thought, why not start my own company?" Grandadam invited the Turczyn brothers, who also own a local tool and die manufacturing shop, to join him in the venture, and they liked the idea of importing from China as well as manufacturing in the U.S. It turned out to be a bright idea for the three friends, and business is booming. "We currently have sold our products to more than 10,000 locations here in the United States," he points out. "We're bringing in about four product containers a month, and we sell from California to New York to small mom and pop stores, as well as to the really large chains of America." The minimum order is one case, and case quantities vary by product.
"Our customers choose us for several reasons," Grandadam stresses. "First, our service is phenomenal. Each customer has his or her own sales rep and that rep works directly with the customer every time. Our sales people get to know the kind of store the customer has, and the types of products that will sell well in their stores. Second, you can't beat our prices. We have a buying office in China so we're very good at finding and getting the best quality products at the best prices. Once people start doing business with us, they are confident they will get the best price, the best service and products that work."
Promier Products' best seller to date is the 28 LED all purpose light, which contains 24 LED spotlights and four LED flashlights. "In our first 12 months of doing business we sold over one million units," says Grandadam. The product comes pre-packed with batteries in a 12 piece counter display and is ready to use. It features glow in the dark sides, a strong built-in magnet, and a 360 degree fold away swivel hook. "This light appeals to everybody," Grandadam notes. "Because it has the magnet on the back, you can attach it anywhere there is metal, like a refrigerator, so if the power goes out or you just need a flashlight, it's always going to be there. The hook on the back makes it easy to use while working on your car, for example, and it's small enough to fit in your hand, a purse or a glove box. With a retail price of $9.99, it is very affordable and the low wholesale price gives buyers a high margin."
To expand its line, Promier Products is getting into more high powered products such as three, five and seven watt flashlights, as well as the sale of tactical lights. In addition, Grandadam is preparing to move in a completely new direction. "Even though I'm known as the 'Flashlight King', I'm hard pressed to find a flashlight at home because my two boys use them as toys," he says. Grandadam found a way to keep his children happy as well as get his flashlight back. Promier Products will be launching a toy line in late 2012.
For more information:
Promier Products
304 5th Street
Peru, IL 61354
Tel.: 815-830-2802
Website: promierproducts.com