By Kevin Zimmerman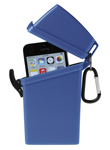 Travel and outdoor adventure are two pleasures in life, though transporting and protecting your gear can be decidedly the opposite. Addressing that issue is Witz Sportscases, whose increasingly wide range of products are waterproof and feature streamlined designs that makes them ideal for hanging around necks, slipping into pockets, stowing in backpacks, or clipping to bags.
The need for versatile, easy-to-manage carrying cases first came to company president Trent Wentz's father some 25 years ago. The younger Wentz says that the need for such a product may seem obvious today – and even back then – but in fact was not. "My dad saw the need for a single case that could hold your money, credit cards, hotel keys, and other items when you are on vacation and do not want to leave all of that back in the hotel or have to try and hide it all on the beach, by the pool, and so on."
Witz's large (2 .7″ wide x 4.3″ high x 1.3″ thick, $7.25-8.50 wholesale) and small sports cases (2.5″ wide x 3.7″ high x .75″ thick, $6.25-7.25 wholesale) are made of crush-resistant ABS plastic and an O-ring to keep out water and dust. They include a neck lanyard and a carabiner and come in a variety of colors and designs. While those provide the foundation for Witz, the company is "always coming up with new ideas," Wentz says. Some of those, he admits, have been "hit and miss." The firm was confident that ski goggle and dive mask cases would perform strongly, but ended up discontinuing them two years after introduction. "Eyewear cases [$10.95] were particularly strong sellers a few years ago," he adds, "but they have dwindled a little bit as eyewear styles and sizes have changed over the years."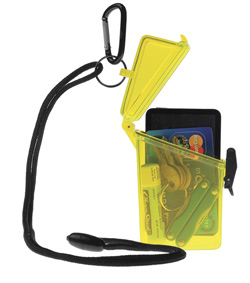 Witz also offers ID/badge holders ($1.99-10.95), first aid and other travel kits ($15.95-18.95), as well as a first aid kit (8″ wide x 3″ high x 5″ thick) for $64.95 that includes a variety of bandages and ointments, latex gloves, a first aid booklet and numerous other items for emergencies. The immediate future lies in the cellphone and electronic fields. Smartphone lockers ($11.95-13.95) are available for numerous popular models, and can also be used to store MP3 players, GPS systems, PDAs and cameras. A case for the iPhone 6 has been successful, and Witz is ready to roll out one for the larger iPhone 6 Plus "once we see how many of them Apple sells. We would definitely like to grab a bit of that business."
Witz's latest offering is the Tablet Traveler (10.125″ x 7.3125″ x 1.25″, $27.95), which is waterproof for up to 3 feet. Introduced last year, the product is just now starting to receive reorders. All products – which are all waterproof – require a minimum order of 144 units. Beyond watching trends, Witz gets ideas for new products from customer feedback and conversations at trade shows. "That is where the sunglasses cases came from, and later our cellphone cases," Wentz affirms.
Much of the company's competition comes from much larger case companies, "which can be waterproof but also pretty heavy duty – something you would store a $2,000 camera in," Wentz says. "We are more targeted to the rafter or camper who is going to water parks, beaches, boating and that sort of thing." Wentz has also noticed increasing competition from Chinese manufacturers; their products, he says, may be more inexpensive but are rarely waterproof. "We feel that we stand apart not just by our quality but also by our devotion to customer service," Wentz says. "You can reach us with one phone call, without having to go through all those channels that bigger companies have."