By IvyLee Rosario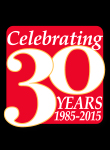 In 1985, Microsoft launched its' first version of Windows, the first cell phone call was made as was the first .COM domain registered. Who would have noticed that founding partners Mike DePaul and Bill Bailes were embarking on little more than an idea to buy and sell Closeouts? That idea would eventually turn them in to a leading Supplier to retail stores all over the World. To say the least, a lot has changed since 1985.
From its early and much smaller beginnings in a 15,000 square foot facility to its current home, Regent Products is located in River Grove, Illinois a Western suburb near Chicago's O'Hare Airport. The cavernous location boasts 535,000 square feet of warehouse distribution, sixty-two docks, a 5,000 square foot showroom and more than 4,000 items in over twenty categories. "It is a milestone to have made it thirty years," said Ken Soens, Sales Manager of Regent Products. "A lot of businesses do not make it that long. If you take a look at the past thirty years, it is amazing the changes we have had to make in order to survive in this industry."
In 1989, the inventory was mainly focused on Closeouts, but eventually Direct Import items were sourced and brought in to grow and build a consistent line of inventory. There was a need to compliment the closeout category and meet the demands at the request of its growing customer base. "One great thing about the company is the ownership is flexible and wants to remain successful. They continue to reincarnate themselves," said Soens.
Today in 2015, Regent Products Corp. has earned the respect from its customers by helping them grow and remain successful by offering "Exceptional Products & Value" in both domestic closeout programs and Direct Import programs. Vendors appreciate their commitment to moving small and large quantities of closeouts discreetly through its customer base. In addition to Closeouts, Regents continuity categories include: housewares, glassware, food storage plastics, kitchen gadgets, pet products, health & beauty, stationery, Halloween, Christmas, Easter, St. Patrick's Day, party supplies, cleaning, patriotic, snack, food & candy.
Thirty years later, you can find employees with 20 to 25 years of service proving that partners Mike DePaul and Bill Bailes remain committed not only to its customer base but employees as well. "The tenure of a lot of the employees is something we are really proud of," said Soens. "I think that speaks values to ownership, the stability of the company and its commitment to the employees." Regent's customer base is as diverse as its lines of merchandise. Customers are serviced by a knowledgeable in-house sales and customer service team along with an outstanding warehouse and logistics department.
Regent Products continues to innovate and evolve by offering pre-loaded merchandise strips and floor and counter displays. New items are introduced to keep their customer base poised for continued growth and success. You will find Regent Products in Booth # N8524 during the ASD Market Week show or visit their website www.regentproducts.com.