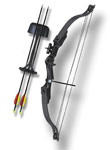 The sport of hunting is taking off, and Rex Distributor Inc. is ready with a huge variety of crossbows, bows and arrows, knives and sporting goods. With 25 years in the business, the company has its finger on the pulse of what customers want. There are many product choices for knives, from pocketknives to hunting and survival tools. Many of the collections are made of beautiful materials such as inlaid wood and bone. Trends in the media, with popular TV shows such as "Survivor" and "Survivorman," often influence what's hot in the moment, says Mani Fahahari, who manages sales for the L.A. based company.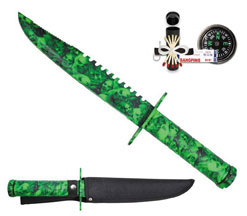 Because Rex does not carry brand name knives, the company responds quickly to the latest trends. "There were a couple of TV shows where they used bows and arrows, and though we have been selling them for a while, it definitely helped to increase our business," Fahahari says. Another trend right now is Zombie killer knives, spurred by the popularity of the AMC show, "The Walking Dead."
"Years ago, you never would have been able to sell a knife with a bright green handle," Fahahari jokes. "Now people are buying them like crazy." Other customers buy knives as collectibles, especially those related to a fantasy or cartoon character, he says. Rex's other products include swords and daggers, throwing knives, ninja blades, helmets, and boxing/fitness gear. The company has its own team of designers and is always on the lookout for the next big thing. "We're looking for that knife that hasn't been made yet, and always putting out new products." On the drawing board right now is a knife inspired by the Steampunk aesthetic.
Buying details
Rex sells through its wholesale portal, rexdist.com, as well as at some of Las Vegas' major shows, ASD and the Army Navy Military Expo. Online, the minimum order is only $100. That's intentionally low, "so retailers can get a feel for the product and see if they like it." Prices are reasonable, with pocketknives starting at $2 and going up to $50 wholesale, and crossbows from $7 to $170 wholesale. Suggested retail pricing is between double and triple wholesale pricing.
Rex International
5403 Ayon Ave.
Irwindale, CA 91706
Tel: 626-969-7866
Toll Free: 1-800-237-7640
Web: rexdist.com