By Justin Hotard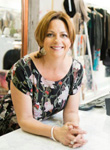 Small merchants have always excelled at driving exceptional customer experiences with a smile and a handshake. Today's Point of Sale (POS) technology is evolving rapidly with built in consumer experience (Cx) tools that enable small merchants to compete with large retailers with all new ways to reach more customers and connect with them when and how they want.  Today's consumer buying patterns and shopping habits can be harnessed inside the store and out.
The first step toward creating a personalized Cx is moving away from the cash register. Most small merchants are focused on running their business and many haven't realized how a mobile POS can give them more time to do what they love and save them money. Next, small merchants should choose a simple loyalty program integrated into the POS. Most third-party loyalty tools aren't integrated, meaning they don't link to customer purchase data, and can be costly and risky. They are storing customer data along with other businesses in their network, which means they also have the ability to offer rewards and advertise to the merchant's customers. It's important for small businesses to protect their data to build strong customer relationships. Small businesses need simple tools to succeed in a DIY fashion so that they can securely manage and grow their business.
The first step toward creating a personalized consumer experience (Cx) is moving away from the cash register.
Customizable email marketing integrated with social media makes it easy to attract and retain customers and a basic loyalty program eliminates the need for customers to keep paper punch cards or receipts to track their rewards. Simple analytics and marketing reports provide visibility into what's performing well and what isn't. Whether accepting cash, checks, credit card, or mobile payments, every transaction is a chance to enhance the customer's experience. The data is stored in the cloud and is easily accessible through online reports and mobile dashboards, keeping small merchants in the know so they can make informed decisions.
According to recent NRF research, a single view of customer data increases accuracy and enables retailers to effectively execute dynamic segmentation and personalize interactions. This is the positive impact a single platform approach can have on the customer journey. With customer and inventory data stored in the cloud, multi-store capabilities make scaling a breeze. Now, small businesses can manage and implement exceptional Cx across all their stores.
These are the four things every small merchant needs from their POS to deliver exceptional Cx:
Capture customer data securely with every transaction
Personalize and customize email and social media marketing
Set up loyalty programs with rewards customers can see at checkout
Provide access to simple analytics and reports to make informed decisions and identify the best customers
Third-party marketing tools and loyalty programs are proving to be inefficient. When 80 percent of your revenue will come from a maximum of 20 percent of your customers, you need your POS to help you keep them happy and coming back.