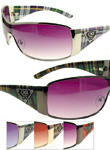 With summer in full swing, high profit sunglasses are a good purchase as consumers are looking to accessorize their shorts and swimsuit styles. Whether your customers are looking for fashion, sport or simply everyday sunglasses, a wholesaler such as Moda Collection carries customer favorites at highly competitive prices. The eight year-old Missouri based company, once a word of mouth kiosk supplier has grown since its rebranding efforts. Jesse Witham, president of marketing at Moda, explains, "We now manufacture our own product, where before we used to buy some styles and import others. We're now advertising heavily and using social media marketing to expand our brand." Among its growing and rebranded product line are women's style sunglasses with rhinestones and Polarized lenses, which wholesale for about $2.10 a pair, and sell as high as $30 a pair retail. Such offers have provided Moda with a wide range of clientele, from brick and mortars to gas stations, convenience stores, truck stops, surf shops and a continuing customer base of kiosks and carts.
The Gift of UV Protection for Good Value Pricing
Moda has other offerings at similar savings. The company's website displays the many styles, colors and designs of glasses available. "Our minimum order is only $50," Witham says, "and we offer free shipping for orders over $200." The company also has escalating discounts for orders of more than $500 and $1,000. Plus, Moda features what it calls, "Sunglass Package Deals," where new buyers can receive an assortment of sunglasses to see which styles sell best. "Our five dozen assortment pack comes with an additional 16 pair countertop display, plus a 10 percent discount, bringing the price down to only $135," Witham mentions. "That means each pair wholesales for only $1.80, and can retail for $10 and up. It's a great value." With a 15,000 square-foot distribution warehouse centrally located in Springfield, MO, Moda gets all its orders to customers within three business days or less. Retailers will also be thrilled to find that every pair of sunglasses comes with a barcode.
Innovating on its kiosk roots, Moda is making a big push this year with its own branded kiosks for malls. "They come in a twelve by twelve-foot size," Witham says, "with frosted acrylic glass and branded with the Moda name." Built especially for the company, Witham reports they're a great buy for anyone wanting to start up their own kiosk sunglass business carrying the Moda brand. "The kiosk comes complete for only $10,000, and we've gotten a huge response from the malls where we've placed them so far," he notes. "If you wanted to have one built yourself, it would cost $25,000 to $30,000."
For more information:
Moda Collection
2145-B Bristol Lane
Nixa, MO 65714
Toll Free: 888-308-6632
Website: www.modasunglass.com