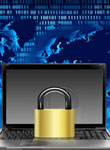 More than half of America's small businesses (53 percent) say it is important for new hires to possess a strong proficiency in basic computer skills as it relates to the online safety and security of their business, according to a new survey of 1,015 U.S. SMBs by the National Cyber Security Alliance and Symantec. The survey also shows that 87 percent of small businesses have one or more employees who use the Internet for daily operations. Over half of SMBs surveyed believe a good online safety posture is essential for new hires in the following ways:
Ethical Use of Technology:
Three-fifths (59 percent) of SMBs say knowing the proper use of email, social networks and engagement online is essential (38 percent) or important (21 percent) to the safety and security of their business.
Understanding Privacy Protection Measures:
Fifty-six percent of SMBs say it is essential (41 percent) or important (15 percent) for new hires to understand protecting the privacy of information.
Internet Security Practices:
Fifty-eight percent of SMBs say it is essential (38 percent) or important (20 percent) for new hires to know Internet security practices like password protection measures, identifying safe websites, avoiding phishing and other scams.
Knowing the Importance of Protecting Intellectual Property:
Fifty-five percent of SMBs say it is essential (40 percent) or important (15 percent) for new hires to have basic skills and knowledge around how to safeguard intellectual property.
Aside from bringing on new hires who posses basic online safety skills, U.S. small businesses could be operating under the assumption that their existing employees know how to stay safe online. Seventy-percent of SMB owners/operators say they do not provide online safety training for employees.
"Small businesses are expressing a strong need for employees with basic skills and knowledge about how to use technology safely, securely, ethically and productively," notes Michael Kaiser, executive director of the National Cyber Security Alliance. "Given the role of small businesses in our economy, it's so important to integrate cyber security training into all education levels, from K-life. SMBs should also provide ongoing training to employees to be sure skills are reinforced and new skills are developed as the technology changes."
Small business owners and employees must become educated on cyber security, and at implementing technologies to protect themselves and the information that fuels their businesses. SMBs should ensure that both current employees and new hires thoroughly understand ways to increase online safety and security.
The following simple tips from the National Cyber Security Alliance and Symantec can help aid that process:
Enforce strong password policies:
Passwords with eight characters or more and use of a combination of letters, numbers and symbols (e.g., # $ % ! ?) will help protect  data.
Encrypt confidential information:
Implement encryption technologies on desktops, laptops and removable media to protect confidential information from unauthorized access, providing strong security for intellectual property, customer and partner data.
Use a reliable security solution:
Today's solutions do more than just prevent viruses and spam; they scan files regularly for unusual changes in file size, programs that match known malware, suspicious e-mail attachments and other warning signs. It's the most important step to protect information.
Stay up to date:
A security solution is only as good as the frequency with which it is updated. New viruses, worms, Trojan horses and other malware are born daily, and variations of them can slip by software that is not current.