By Sheridan Orr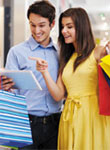 In today's increasingly digital world, it's important for online retailers to leverage social media and develop a memorable online "window" shopping experience. One common misconception among retailers is that money can't be made directly through social platforms, but there is indeed potential for a clear stream of revenue driven by branded, strategic and innovative social media activity. For consumers scrolling through posts on Facebook and Tumblr, or the array of images on Pinterest and Instagram, it is similar to strolling down Main Street past local shops. If they see an ad, post or Pin that peaks their interest, they are more likely to click on it, just as they'd be more likely to walk into a store with an interesting window display.
With features such as "Rich Pins" on Pinterest or the new "Buy Button" being tested by Facebook, social media can be used to turn conversations into conversions. ChannelAdvisor's recent Multichannel E-commerce Study of more than 200 retailers in the US and UK who sell products online, found that retailers' top three business goals for social media are to increase brand awareness (70%), reach a new generation of customers (41%), and to drive conversions (40%). Social media is a relatively low cost marketing tool that can lead to increased revenue when properly executed by retailers.
Develop a strong voice on social media
Years ago, department stores relied solely on ornate window displays to showcase seasonal products, and to entice customers to enter the store and make a purchase. In the rapidly growing social media landscape, this same idea has shifted to a more visual focused form of digital commerce. Social media platforms offer retailers the ability to establish a strong voice through consistent and compelling product imagery.
Retailers can use Pinterest to create customized and branded boards for events, seasons and trends, to quickly and easily update and share new product offerings. Pinterest offers Rich Pins that include pricing and quantity information in the Pin itself, allowing consumers to click on an item of interest and be taken directly to the retailer's website to purchase that item. These pages are a showcase for products, and are delivered straight to the consumer.
Turn inspiration into purchase
Different social media platforms deliver different benefits to retailers. Online retailers should make sure they have a brand presence on as many social networks as appropriate for their audiences, with the goal of driving sales and creating brand advocacy. Facebook is making strides in social commerce with the recently announced Facebook Buy Button feature that allows a consumer to buy directly from a retailer without leaving Facebook. While Facebook and Twitter have been used to spot trends, engage potential customers and track behaviors, Pinterest and Tumblr are better suited for selling products because of their strong visual display capabilities. Regardless of the platform, it is evident that social commerce is on the rise, with nearly a third of US retailers surveyed in ChannelAdvisor's Multichannel E-Commerce Study reporting that they use social media to advertise promotions and/or deals.
Asking customers to share content has also become a main focus for retailers on social media. This call to action can encourage customers to tap their friends and followers, catching the attention of potential new shoppers. What makes a post worth sharing follows a strict formula: A clear call to action, with a little incentive. For example, offering consumers 10 percent off their next purchase if they "share" a post creates a domino effect of continuous sharing to spread a retailer's brand and products. Developing customer relationships and maintaining social engagement will keep a retailer's voice active in conversations online, linking them directly with the people that matter most to their business.
Prepare for next generation of social commerce
Staying on top of retail-focused social media trends can lead to great dividends for a business. At the moment, visualization is the buzzword in the online retail world. The more visually appealing a brand's presence is on social media, the more enticing it becomes to consumers. Facebook, Instagram, Tumblr and Pinterest all feature a user-friendly platform for customers to see the products they want firsthand, and Twitter continues to make great strides in becoming more visual. The addition of purchasing options like Rich Pins on Pinterest and the upcoming Facebook Buy Button will only increase the value of social media as a tool for retailers.
Mobile optimization is another important factor for today's consumer, as it provides an added level of accessibility and usability. According to ChannelAdvisor's recent Multichannel E-Commerce Study, online retailers are aware of the opportunities made possible through mobile, with 86 percent of surveyed retailers stating that they believe web traffic from mobile devices will increase over the next two years. Much of e-commerce is happening via smartphones or tablets, and difficulty making purchases via a mobile device could deter customers and decrease return visitors. This is especially prevalent when considering the combined potential behind both mobile and social commerce. With Facebook's Q2 2014 Earnings report indicating that nearly 400 million users access the social media platform exclusively through mobile, the introduction of the Facebook Buy Button poses immense potential for online retailers to expand their customer base.
Retailers need to be available to consumers on all channels of technology, to ensure their messages break through the cluttered online market. When used strategically, social media can help online retailers further develop a brand personality, engage with consumers directly, and broaden their reach beyond the traditional means of marketing and selling to new customers.