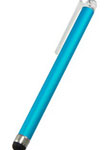 Fun Zone, a wholesaler of a variety of fun and functional products, is now carrying the latest and most essential tool for touch screens. Fun Zone's Stylus Pen "is a very handy item," says Ken Wortkoetter, company owner. "It provides a smooth user experience with any tablet or touch screen product, including iPad, iPod, iPhone, smartphone and android devices, as well as gaming units."
The stylus is lightweight and makes it easy to select items as well as to write in a pen-like fashion. "It's great for women who don't want to damage their nails tapping on a touch screen and for use in chilly temperatures when people don't want to take off their gloves," Wortkoetter adds. Fun Zone's Stylus Pen is available in assorted colors, such as purple, blue and green. The company offers two styles, including a pen with a pocket clip and a small stylus with a plug for an earphone jack.
"Our stylus pens are very popular sellers," Wortkoetter continues. "My vendors sell them quite rapidly." People of all ages are using touch screens, from toddlers to seniors. "It's estimated that there are up to 600,000 touch screen items in the U.S. Technology manufacturers are even making laptops with touch screens." The touch screen market scaled approximately $13.8 billion in 2012 in the U.S., an increase of 27.8 percent compared with $10.8 billion in 2011. It is expected that the market size in 2013 will climb 26.8 percent year-over-year to $17.5 billion. "This market offers retailers a huge opportunity for sales in related products."
Stylus pens usually retail for $12 to $15 each, and Fun Zone wholesales 50 pieces for $25. "At $.50 apiece, there is a high profit margin even when vendors sell them on the low end of $3 to $5," Wortkoetter adds.
Fun Zone's wide selection of merchandise includes toys, air soft guns, novelties, pet supplies, and bracelets and necklaces. Another of the company's best sellers is the titanium health and sports necklace. Processed with special treatments to make the water-soluble germanium, titanium and negative ions stay absorbed in the fabric, the necklace helps relieve stress and fatigue by improving blood flow and circulation.
Fun Zone has a minimum order of $100. Shipping is free on orders over the minimum.
Where to buy:
Fun Zone
1530 East High Street
Bryan, OH 43506
Tel.: 419-553-7030
Visit:
Fun Zone