Buy4Sto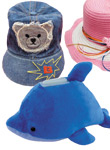 re.com is a wholesaler of an eclectic blend of hot ticket items, including animal inspired accessories, hats and caps, jewelry concepts and Murano glass jewelry, with new merchandise arriving on a regular basis. Known for its swirling color patterns and organic shapes, Murano glass is commonly formed into beads and pendants. Buy4Store.com's customers can choose from bracelets, cords and European pendants in a variety of styles including leaf shaped charms, beaded bracelets and millefiori pendants, which are made using a technique that creates floral patterns in the glass. The company offers Murano jewelry gift sets, as well, which come packaged in red, heart shaped boxes. A case of one dozen wholesales for $24, offering a high profit margin for sellers who retail the gift sets for at least $6 apiece.
Among Buy4Store.com's most popular sellers is its line of faux fur plush animal merchandise, including hats, CD cases, notebooks and banks, which continue to be popular year after year. The company offers animal hats in dozens of species, including wolves, tigers, pandas, pigs and more. Hats wholesale for $3 each, with a minimum order of two per style, and CD cases wholesale for $2.50, with a four-piece minimum. Customers can mix and match animal pieces, as long as they meet the storewide minimum order of $150.
Buy4Store.com regularly expands its inventory of summer apparel and winter items. For example, the company now offers an extensive line of men's, women's and children's summer and winter hats, including beanies, fedoras, cowboy hats, chullos and trooper hats. Beyond hats, the company sells a vast array of fashion accessories, including eyeglasses, scarves, iPhone accessories, toys and slippers.
Online buyers have a number of resources at their fingertips when ordering from Buy4Store.com. If a customer has questions, the website has a live chat feature to answer them. Buyers have access to tracking, and can input the UPS shipment number from their order to keep an eye on its transit without having to launch the UPS website separately. Whether it is a schedule of trade shows where Buy4Store.com will be exhibiting, or the estimated length of time it will take for an order to arrive, the website has all of this information readily available. To keep customers informed of its expanding product line, Buy4Store updates its website daily.
Where to buy:
Buy4Store.com
207 W. 138th St.
Los Angeles, CA 90061-1003
Tel.: 310-715-6034
Visit:
Buy4Store.com