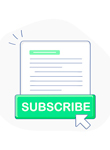 Subscription services were a hot topic in 2017. The apparel startup Stitch Fix® exploded with success, Amazon is beta testing a similar product called Amazon Prime Wardrobe, and Under Armour® and Gap® also jumped in on the idea. But the truth is, subscriptions are not new to retail. Columbia Record Club, founded in 1955, was one of the largest original mail-order clubs, and by 1996 reached 16 million members. In 2010, Birchbox® launched the modern ecommerce subscription model with a monthly beauty box. Customers filled out a questionnaire with their preferences; skin tone, beauty style, and Birchbox used that data to select the perfect products for the customer to try. Until this point, most people were testing new makeup and skincare goodies by either borrowing them from a friend or purchasing the full-size product and hoping for the best, or at least a lenient return policy. Birchbox's subscriber list quickly grew to 45,000 within the first year.
The Beginning of an Era
Birchbox gives customers a personalized selection of five sample size beauty products each month for $10, which is normally less than the cost of a full-size product. The service is relatively inexpensive and introduces shoppers to new brands, a win-win for customers and emerging beauty companies alike. From there, many competitors such as GlossyBox® and Ipsy® popped up, offering a similar service for the same product category.
Once these startup companies proved their ideas was profitable and became major players in the beauty retail industry, companies like Sephora® and Target® started to offer similar services. Curated monthly packages with new cosmetic products for buyers to test in a fun, low-risk, discovery-oriented way. College students and younger shoppers love these packages because they are an affordable way to try higher-end products. For other shoppers, these boxes are a fun way of trying products outside of your traditional comfort zone.
A Box for Everyone
It wasn't long before the monthly subscription box model expanded outside the beauty industry. Nike® and Under Armour started subscription packages for athletic and fitness-minded consumers. BarkBox® offers monthly treats, toys, and other goodies for Fido. There are monthly wine clubs, book subscriptions, sock subscriptions, even murder-mystery subscriptions. For every interest and product category out there, there is likely a subscription box for it.
Liz Cadman, the founder of My Subscription Addiction, says the number of different boxes she has tried "must be in the thousands." Liz created My Subscription Addiction after she became a Birchbox subscriber in 2012. "I loved it, and wanted to try other subscription boxes." Liz tried to do research to figure out which ones would give her the most "bang for her buck," but realized there weren't many reviews or third-party information on subscription boxes. So, she started her own review site thinking other people might be looking for the same type of information she was – and she was right.
Elements of Success
Subscription boxes are popular across the country, and through multiple demographics – as evidenced by the volume of subscription boxes throughout many product categories. So, there must be some underlying factors that give these boxes a broad appeal. Liz says that the two main factors that separate a great subscription box from a mediocre one are value and curation.
1) Value. For boxes that cost $49.95, you can get products that are valued over $100. "That feels like such a great deal, especially if you love the products," says Liz. "When I think of boxes that are popular with a wide audience, they have the best value. Liz explains that there is an element of risk in subscription boxes. "You don't know exactly what you're getting, so it's important that the uncertainty is offset by value."
2) Curation. The other important element is curation. "It's one thing to have a high value, it means a lot more when it feels purposeful," says Liz. Boxes should be thoughtful and seasonally-appropriate. "You never want it to feel like five random items thrown in a box." Subscribers trust the company to provide them with great value, and new products that they will love.
Modernized Product Discovery
Liz argues that many shoppers are not browsing and discovering products like they used to. "Subscription boxes are the new and improved version of discovery." She says great boxes have "elements of surprise and delight." People use the boxes as a way to treat themselves, and as something to look forward to.
In other words, there's a real risk of disappointment. For many customers, receiving that box in the mail is like a mini Christmas morning. Whether a customer doesn't feel like they received their money's worth, are unhappy with the products chosen for them, or simply feel like the package isn't customized, there's plenty of ways things can go wrong, which is why curation and value are so important.
Power of Personalization
Nailing product personalization on the head drives brand loyalty, and increased revenue through add-on sales. If a customer is really happy with their products, it is likely that they will replenish those items from your store, and even look to see what else you have to offer. No one does personalization better than independent retailers. When it comes to knowing your customers and keeping your finger on the local trends, indie retailers are the experts. Subscription boxes are a fun way of boosting sales and shopper loyalty, all while providing customers an in-demand service.