The Coronavirus pandemic is testing leadership on many fronts. Brand leaders in retail, especially food retail, banking, and the hospitality industries are struggling to maintain revenues in a dynamic and fluid ecosystem. Specifically, they are tasked with ensuring the safety and well-being of their employees and customers while maintaining sales revenues as demand increases.
Online shopping has grown exponentially over the past few years, especially with the advent of AI-driven shopping experiences, but the Coronavirus pandemic has caused a surge in online shopping. A new report from brand protection firm Red Points reveals 73 percent of consumers will increase online shopping if the COVID-19 outbreak continues, and 58 percent of consumers have already bought more goods online than usual.
With this increased activity comes increased scrutiny. If a consumer has less than an excellent shopping experience, they will find another brand. They will also leave if they think you are not working to care for them and your employees. Brand leaders are in a heightened battle for the consumer's trust, and only those who earn and keep it will win. With this in mind, here are some rules for enterprise brands that want to successfully engage with consumers, gain their trust during the COVID-19 crisis, and maintain a revenue stream.
Customer & Employee Safety Comes First
Put others first. Be sure you communicate that you are putting your employees' and customers' well-being first. According to Forrester, 52 percent of U.S. online adults prefer to buy from companies that show how they are protecting customers against the threat of COVID-19. Share with your customers the steps you are taking to protect them.
Amazon recently communicated how consumers should handle the packages they deliver to ensure they are protecting themselves from possible COVID-19 contamination. A note from a CEO and/or founder expressing how you are protecting them helps engender their trust.
Notify When You're Out of Stock
You have to be as transparent as possible while providing a fast, engaging, 1:1 in-the-moment experience. If you are out of a product, tell the shopper and be able to offer an appealing, alternative product instantly. If you can let the customer know when the product they seek will be available again, even better.
Give the Ultimate Personalized Experience
Make sure you are offering products and services that contextually relate to the consumer's needs. Who are they, where are they, and when are they shopping must be factored in instantly. Let's say a consumer resides in Miami, Florida and is price-conscious, and it's March. A retailer would offer warm-weather clothing displayed from low-price to high. But if the consumer travels to Denver, Colorado in that same month and browses the site, the retailer should offer the consumer cold-weather gear instead that is readily available in inventory so it can be shipped right away.
It's important that you follow consumers across all channels and provide the most updated information so you can stay engaged and relevant. Multiple devices are still in use even though we're staying home. People may start browsing for an item using their laptops during the day and move to a tablet and/or mobile phone in the evening to finish their purchase. It's our job to follow them from device to device to ensure a seamless shopping experience.
Seamlessly Working Websites
Lastly, you have to scale. Internet traffic is growing and spiking in ways that are different than just a month ago. Enterprise brands selling online have to provide the same online shopping experience at peak times as they do during slow traffic. The consumer doesn't know when or care when internet traffic spikes; they only care if the brand is providing a timely and relevant experience.
When consumers find those brands that prioritize the customer with care and superior online shopping experiences, they reward the companies with preference, advocacy, spend, and – the most precious of today – trust. This trust will continue long after the COVID-19 virus pandemic leaves us.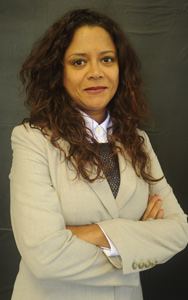 Debjani is the co-founder of ZineOne, which provides the #1 AI-powered personalization platform. She leads the execution of ZineOne's vision and is responsible for the overall company performance. Previously, she was the co-founder of EmPower. She has also worked at Booz Allen Hamilton, ONI Systems, Mayan Networks, and AT&T Bell Labs. Debjani has an MBA from MIT and an MS from Stanford University.