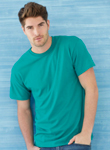 For over 25 years, U.S.T's Incorporated has been committed to one goal: Supplying customers with the industry's best sportswear at the best prices. "We carry an extensive line of products, including t-shirts, sweatshirts, sweatpants, golf shirts, long sleeve tees, tank tops and pocket t-shirts," says Mustafa Abdullah of U.S.T's. Their massive inventory includes top quality brands such as Fruit of the Loom®, Gildan®, Delta®, and Jerzees®.
"Our mission is to provide quality products with quality service for all of our customers. You can be assured that at U.S.T's you'll always receive the industry's top brands for the lowest prices," Abdullah adds.
U.S.T's product offerings include Gildan® and Jerzees® t-shirts, Gildan® long-sleeve t-shirts, Gildan Heavy Blend® and Jerzees NuBlend® sweats, and more, in youth, women's, and men's sizing. Both first class and graded irregular merchandise is available as well as dozens of color options.
Orders for U.S.T's can be placed online or over the phone. The minimum for online orders is $150. Their offices are open Monday – Friday. Orders placed before 4pm will ship same day. For more information, visit www.ustsinc.com.