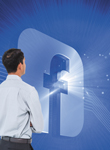 Your store has a thriving Facebook page, and maybe even an Instagram® account, too. You post pictures of your products; you post store and community news and events, and share and like your shopper's posts, too. So what's your next step in increasing your store's reach and boosting your shopper's interaction with your brick and mortar store, as well as your online presence? The answer may be using Facebook's Ads Manager.
According to SEO experts MOZ.com, the average amount of time consumers spend on an individual brand's website is about 3 minutes, 49 seconds. The average amount of time these same consumers spend on social media is 50 minutes per day. As a busy retailer, you want to be putting your money where the shoppers are, so it may be time to open up a Facebook Ads account.
If you already have a Facebook account, just log in, and run a search for Ads Manager, or simply start at www.facebook.com/business. Once you log in, Facebook will build an account for you, and open a window that allows you to set up ad campaigns. To start, you'll be asked to state your business objective, and choose between Awareness (Brand awareness and Reach), Consideration (Traffic, Engagement, Apps, Videos, and Lead Generation), or Conversion (Conversions, Product catalog sales and Store visits). Each of these objectives has different benefits that Facebook will define and step you through.
For example, if your objective is expanding your store's email promotions list, you would want to select the LEAD GENERATION goal under the objective 'Consideration.' The ad campaign you build will be focused on finding people who match your store's shopper profile, and will be successful when Facebook serves up your ad and someone new gives you their email address to be added to your sales email or promotion list.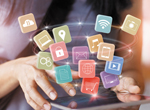 Once your objective is set, Facebook will ask you to set up a few basics about where you are located and how you do business, and then will move you on into defining your audience more specifically by creating a custom audience for your ad campaign. You can create this custom audience by uploading your existing customer email file, creating a list of people who visit your web site, creating a list of people who use your app, if you have one, or creating a list of people who have engaged with your previous Facebook posts. Each of these avenues is worth exploring, and each may give you different campaign results, so if you are just starting out, choose one, see how it rolls, and after a week or two, set up a new campaign choosing a different custom audience. Facebook will also save these custom audience lists for you, so if you want to use the same list in a future campaign, you can select it from a drop-down menu.
If you aren't sure you're ready to set up a custom audience, Facebook still has an answer for you – you can select your audience based on their location (proximity to your store), age, gender and language. You can also add an interest, based on demographic information like education or life events, parental status, politics, or you can choose an Interest, like Shopping and Fashion or Sports and Outdoors. The choices you make here should define your ideal shopper. Is she a woman between 15 – 25 years old who likes Fashion, or is he a parent between the ages of 30 and 45 who owns a home? These are audience definitions only you can choose for your store.
Once your audience choice is defined, you may choose between having Facebook automatically serve your ads (this is recommended, especially at first) or you choosing your own time and place for the ads to be seen online. You will also set your budget, starting as low as $5/day. You can set a daily or lifetime budget for your campaign, and can also set a start and end date. Facebook has very user-friendly FAQs and Help screens all along the way if you have additional questions in trying to figure out your budget schedule.
Your last steps are the actual creation of your ad, and these are also easily walked through with the help of the Ads Manager. You can choose from a single photo and text, a video clip, a carousel (showing multiple images or videos in the same ad), a slideshow video, a custom canvas ad, or a collection ad (showcases multiple products). For your main purpose of building up your email list, you may want to choose a single image or a carousel that shows your store, your products and maybe a sales offer.
You will be focused on lead generation, and Facebook makes this easy as the Ads Manager is completely mobile friendly, and anyone who clicks or taps on your ad will be asked to enter their email right then and there. With a few keystrokes, you've just successfully captured a new subscriber to your email list. If you are using an email service like Constant Contact® or Mailchimp®, Facebook allows you to synch your CRM accounts. As soon as someone gives you their email address, your automated Welcome message can be emailed to them, possibly including a coupon or discount code for them to use immediately, in-store or on your web site.
All in all, initially setting up an Ads Manager account in Facebook may take you a just over an hour. You will also want to browse through the various reporting options so you can keep an eye on how your campaigns are performing once they are live. Online ads have the potential to reach hundreds of thousands, and in Facebook's case, millions of logged-in users, but the law of online returns is not the same as in other advertising media. Online ads have an average response rate of just 0.06%, according to Google's Display Benchmarks Tool. Additionally, many more consumers are choosing to use ad-blocking software that, over time, will continue to change the online advertising landscape. That said, the better you define your audience, the better your ad will resonate with them, and the more successful your promotional efforts will be. Good luck!