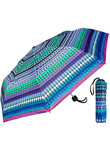 Spring is full of fashion accessories and warm-weather impulse buys, and perhaps none more practical than the umbrella. Fashionable and functional, umbrellas are a must-have for retailers during the rainy spring and summer months. Like sunglasses, most people have more than one umbrella and often purchase them in the moment out of necessity.
Paul Moss, founder of Umbrella Bazaar, says umbrellas are "one of those things that everyone needs, but it's also a fashion accessory. People need one that suits them best and can represent them both in terms of fashion and lifestyle." Paul started Umbrella Bazaar so that he could give everyone "a great variety of umbrellas that they couldn't find anywhere else."
This year, Paul says bubble and golf umbrella styles are especially popular. Umbrella Bazaar also has best-selling print, artist collections, and new floral designs that "can't be found anywhere else." Popular designs come in standard, mini, foldable, and hook varieties. Kids prints are also a top seller. Whether you're looking for every day rain umbrellas, parasols, wedding accessory umbrellas, rain ponchos, or beach umbrellas, Umbrella Bazaar has it all.

Umbrella Bazaar is a specialty wholesaler hyper-focused on providing the best possible umbrellas. Paul says they have one of the largest assortments of designs and styles, and that they "stand by our quality and customer service." Umbrella Bazaar also offers all kinds of displays for a complete setup. Paul recommends displaying some open umbrellas outside the store or in the front window to "catch attention and show off the unique design."
Additionally, Umbrella Bazaar can accommodate custom printing for logos, texts, and images. Umbrella Bazaar offers competitive wholesale pricing and low minimums on all of their products. Standard orders ship within one to two days, if not same day. "We're in spring, summer is upon us," says Paul. "It rains a lot these seasons, so it's a perfect time," to stock up on umbrellas. For more information visit www.umbrellabazaar.com.