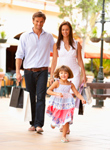 It's so important to create a personalized customer experience, especially in today's market where we have the easy access Amazon.com. It can seem hard to compete with a business that sells just about everything at affordable prices. But in the end, is that all customers are looking for?
Tom O'Keefe, President and CEO of 4-Tell, a smart commerce platform built to serve independent retailers through data-driven personalization, says that smaller retail businesses can offer more because they know their customers better. "Smaller retailers have always brought higher levels of organization because they know their customers," O'Keefe said. "Millennials are looking for authentic experiences and activities and independent retailers can offer that."
Nordstrom® is trying to create that more personalized customer experience by opening their first men's full-line clothing, shoes, and grooming supplies at 57th Street and Broadway in Manhattan. The store may serve as a test case for whether department stores have a future, as people more frequently shop online. To compete, Nordstrom® is aiming to combine cutting-edge technology with old-school in-store service, according to a recent New York Times article. By offering in-store technology such as new buying and returning mechanisms without going through a cashier, they are pushing the fun and personal experience of in-store shopping along with the ease of online shopping onto customers, and it can be a bit intimidating for independent retailers.
O'Keefe notes that data-driven merchandising can help build customer brand loyalty. This includes noticing what customers are looking at online, what they are buying, and who is buying what together. These things inform our understanding of preferences from customers and can determine the next product you put in front of them, according to O'Keefe. By looking at behavioral analytics, we are giving customers a more personalized experience and will ensure they come back for more by promoting things they frequently buy or look at.
Another way to help build customer loyalty is digitally curated product boards, according to O'Keefe. A prime example of a retailer that utilizes this technology is Stich-Fix, an online subscription and personal shopping experience. They let customers input preferences and ship a monthly box of clothing goodies to their home. By giving customers the opportunity to tell them what they love, they can keep an idea board for that specific buyer and continue sending them different clothing items each month they think they'll love. This creates a one-of-a-kind personal experience because you're keeping track of what catches a customer's eye, and they feel more care in their purchase rather than a company that just sells them products. Even though Stitch Fix is an online retailer, this concept doesn't have to stay out of stores.
There's so much opportunity to explore different products online that the in-store experience is more important now than ever. Stores give customers a chance to touch products and discover products in-person. According to O'Keefe, by offering both and in-store and online experience, it gives the customers the satisfaction they need to make a purchase. By doing something as simple as an enhanced site search or posting product reviews online, customers can see what other people love and do all the online shopping fun as well as coming into the store and seeing products for themselves.
"I think the independent retailer has to embrace the norm — connection to their community," O'Keefe said. "Just because Nordstrom can open a store in New York and offer cocktails to everyone doesn't mean they will run everyone out of business. They have to compete with our connections. Products come and go but customers and their memories will last forever."