by IvyLee Rosario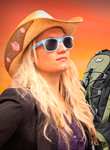 Wilcor International is seen as the leading outdoor specialist, focusing on fun and useful products for retailers looking to cater to camping and outdoor enthusiasts. The company has decades of experience in the business, providing their clients with extensive information about current trends, past patterns, product sales histories, and insight into proven methods to help sell more.
Rounding out the summer season of camping and outdoor exploration, there is one category of products that has continued use into the fall season and is a necessity for anyone spending large amounts of time outside: campfire cooking. For most nature lovers, being outdoors does not stop when the sun goes down, and this is why customers need the right type of gear to take their adventures from daylight to night. "Our Line of Campfire items are our top selling product category," says Zach Sivers, Salesman at Wilcor. "From our Marshmallow sticks, made with sustainable bamboo, Mystical Fire, which will change the color of a campfire for up to 20 minutes, to new products like our extendable roasting forks that have become one of the most popular items in this category in just two years."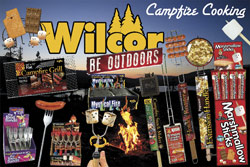 No matter what plans are in store for your customers' outdoor trip, Wilcor products will supply them with the easiest ways to stay prepared during their travels. The range of new products is vast and reflects Wilcor's long-standing dedication to understanding the outdoor market. The company develops and personally tests its products, always looking for the next must-have item for campers and outdoor enthusiasts. These also include fire starter packs that retail for about $2 each and make it easy to start up to four campfires and most importantly, cooking implements, including s'mores baskets that can be used for everything from s'mores to hamburgers.
"This line is comprised of mostly impulse items, with a few essential items people normally forget to pack or don't think to purchase prior to travelling, making them products of necessity," says Sivers. "Let's face it, cooking over, and gathering around a campfire is just plain fun no matter who you are. We offer new and exciting products to help your customers be outdoors, and enjoy every day." For more information on Wilcor products and campfire cooking, call 800-346-2345 or visit www.wilcor.net.