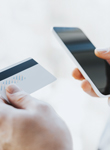 By Chris Poelma
Faster than Black Friday shoppers to the sales rack, 2017 is upon us, and you've likely got an eye on things you can improve in the year ahead. After all, now that you know the Earth still spins post-EMV rollout, you can focus your attention beyond getting customers to dip those payment cards.
Instead, 2017 marks a year where you can drive your customer experience by mastering a few key technologies and tactics, from tapping into mobility to running leaner operations. Ultimately, each of these initiatives leads to the same result: a happier customer and a healthier bottom line.
Harness the full power of mobile payments
According to a 2016 Google study, 82 percent of shoppers consult their phones regarding purchases they're about to make in store. The simple truth: you can't afford to meet these shoppers with mediocre mobile experiences. Knowing this, mobile payments loom large as your next logical retail initiative. Your shoppers are walking in with phones in hand. You should let them pay that way as well. Customers gain another convenient way to pay, and contactless payments also are highly secure.
To get the process moving, you'll need to transition to a modern Point Of Sale (POS) system enabled with near-field communication, a necessity for mobile payments. With the proper technology, you can start reaping the benefits of more secure payments and even take advantage of advanced purchase data offered by select POS solutions.
Sharpen your loyalty & rewards programs
While you're examining your mobile strategy, put your loyalty program under the microscope as well. First, answer these two questions to see where you stand:
Do you have a loyalty and rewards program?
Does it operate with technology more advanced than punch cards?
If you answered "yes" to both questions, then you're in better shape than most. However, there's major value in building out your loyalty program beyond the basics. An effective loyalty program not only incentivizes repeat shopping, it also provides you with the consumer data you need to personalize the shopping experience.
In fact, many platforms like POS solutions simplify this for you with data and analytics tools that help you analyze purchase behavior and preferred methods of communication for loyalty members. You can tailor communication to how customers prefer to receive it and specifically personalize offers based on their individual shopping interests.
Buckle down on back-office management
While the first two initiatives have been customer facing, the final New Year's resolution rests squarely on your shoulders: To become a better operator by arming yourself with the right data. As an owner or supervisor, you're responsible for inventory management, shift optimization, and more. Fortunately, technology can help simplify some of these tasks.
For example, a cloud-based POS allows you to access real-time sales performance and compare that with a live look at your current staff on the floor. This takes the guesswork out of labor management, allowing you to confidently reduce staff during lulls. Or you can even ask the right employee to stay an additional hour without risking the loss of part-time status or overtime costs.
The same principle applies to inventory. With the right POS, you can quickly tap into real-time inventory availability and tweak your purchasing strategy around what's hot. Again, it all comes down to arming yourself with the proper data. Lucky for you, the technology exists to make this the simplest part of your day.
Enjoy a 2017 that boosts the customer and yourself
Hopefully this year will be one on which your customers look back and feel they received a personalized, convenient shopping experience. If you can deliver that, it will be a year in which you experienced improved operations and a healthier bottom line.
The technology exists to make both options a reality. Whether it's labor management or your retooled loyalty program, the result is a more satisfied customer. And truthfully, that should be the primary resolution for every New Year.