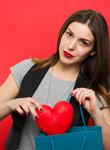 By Ali Newton
Independent retailers have a huge advantage over big-box retailers when it comes to holidays like Valentine's Day. While major names have a brand image to maintain and are limited with their creative options, independent retailers can inject humor and personality much more easily into their displays and promotions.
But what works best for the most romantic day of the year? How can your store convince smitten customers that you are right place for them to purchase products for that special person? Here are three expert tips to increase customer spending for Valentine's Day.
Create An Engaging Store Front
A topical window display tailored to the Valentine's Day theme is a must. Articulated mannequins holding hands can be a simple but cute way to attract attention. If you don't sell products that are directly in line with Valentine's Day, try to inject some humor. For example, a hardware shop could use a letter board saying "Dreaming of a new kitchen for Valentine's Day? Buy him a voucher." Other ideas include having paper hearts near the checkout for your customers to write their messages on, before sticking around the border of your window. This kind of idea can catch on well and create a buzz around your store — particularly when couples begin taking selfies in front of the shop and posting them on social media.
A sidewalk chalkboard with jokes, drawings, or unique messages are often well received and Instagram-worthy. For example, a cake shop chalkboard could be titled:
How To Get A Date For Valentine's Day
1) Buy a cupcake,
2) Give it to your hopeful date.
If they take it, come back together and buy another. If they turn you down, definitely keep the cake.
Photos of messages like these get shared on social media a lot, even just by passers-by, which can really create some hype around your product or store.
Create A Valentine's Day Competition
Try to keep your display ideas relevant to what you do or the service you provide. For example, if you sell art supplies, run a Valentine's card design competition. Customers vote for their favorite in-store and on your social accounts in time for the big day. You can then announce your winner on February 14th and present them a prize. If you're a fashion retailer, perhaps you could run a best dressed Valentine's couple competition. This works particularly well if your shop is somewhere with a high footfall. Ask your couples to take their selfies in front of your shop window. You could even place a light box in the window so that your shop name will be clear to see, day or night. Ask them to tweet their entries with your shop name as a hashtag.
You may even be able to team up with a local restaurant and run the competition together. Perhaps you could both contribute to the winning prize; the restaurant offers a free main course and you provide a gift voucher to get them dressed for their date night.
With a little bit of ambition and imagination, there are lots of things you could do to help you promote your shop and get customers talking about your brand. Get creative with it and don't be afraid to try things out.
Run A Valentine's Day Promotion
Perhaps on February 14th, you offer a 20 percent off voucher to customers who write a Facebook status saying "I may be single, but I still have *ShopNameHere*", with a photo in your shop. Or, if that's outside your comfort zone, perhaps just get your promotion out there in the lead up to Valentine's Day with some humor. Put a sign in the window that says "No need to be lonely this Valentine's Day — 10% off jeans, they come in pairs!"
None of these ideas require a lot of time or overhead — meaning it's not too late to stir up some attention for your store this Valentine's Day. Give your concept a little thought and try to add a creative twist. Customers love a bit of personality and that's something independent retailers do much more easily — and successfully — than big-box brands.