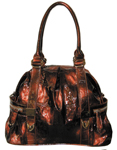 Celebrating their 20th anniversary with the grand opening of a newly purchased warehouse in Los Angeles, CA, Aliz International, Inc. shows impressive strength in this slow economy. Founded in 1990 by Danny & Rosanna Tran, Aliz specializes in the designing, manufacturing and wholesaling of ladies' handbags and accessories. Products include trendy fashion handbags, genuine leather bags, licensed celebrity picture bags, including Elvis Presley, Betty Boop, Marilyn Monroe and I Love Lucy, custom made logo bags, and many more styles of bags.
"Many people wonder if I get bored with my bags after 20 years. In fact, there is a lot to learn in the process; new materials come out and new needs arise all the time. Being focused in one single category actually gives us an advantage over our competitors that carry a broad range of items. We know our bags inside and out, and we do what we know best: our business," says Rosanna Tran, VP of Aliz. Handbags are the most important accessory for women, as they carry the daily essentials, from wallets to lipsticks. This explains why handbags sales for Aliz did not drop, even with the current economic downturn. "We are committed to provide good looking trendy bags that are practical to use, with reasonable prices," says Tran. "All of our bags are designed by women, for women, and they are all designed where functions meet fashions. Our wholesale prices range from $5 to $22 and retail from $10 to $60. Consumers only have to spend five to ten cents a day to carry our bags, and look like fashionistas."
A fabulous bag is definitely a "need," to complete a wardrobe and make a woman feel pretty. Undeniably, it is hard for average consumers to satisfy this need with high end, name brand luxury bags that cost hundreds or thousands. However, a good quality trendy bag at the price of one restaurant meal is totally worth the investment. That's why Aliz, with 20 years experience, a true passion for fashion, and a sincere dedication to customer service, grows stronger as a company, year after year.
Aliz International, Inc. has three locations to serve all your handbags needs. No order is too small or too big. Customers can order from the company's online shopping cart, which is updated weekly at www.alizbags.com, call to talk to a live customer service representative, fax, email or walk in to one of two convenient locations, coast to coast. Aliz can also accommodate special custom design and container orders that can be shipped directly, FOB China, from their factory.
For more information:
Aliz International, Inc.
11136 Satellite Blvd.,
Orlando, FL 32837
Tel.: 407-438-8816
Aliz California, Inc.
8300 Rex Road
Pico Rivera, CA 90660
Tel.: 562-801-9800
Website: www.alizbags.com