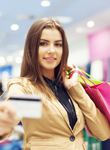 Holiday preparedness means being ready to accommodate all potential customers when, where, and how they want to buy. This includes gift cards. According to the National Retail Federation, over 55 percent of holiday shoppers plan to purchase gift cards, making it the second most popular product category only behind clothing and accessories. What's more, roughly one-third of all gifts purchased are gift cards. There is no question gift cards are an important product category for all retailers, particularly during the holiday season. If you're a brick and mortar retailer, it's likely you already offer them in your store. But, can customers purchase gift cards from you online?
Though online purchases are still greatly overshadowed by in-store shopping, it is a category that is growing rapidly. Shoppers are looking to buy gift cards, and many of them will look to your website to do so. What are the motivations for shoppers to purchase a digital gift card instead of picking up a physical plastic card from your store? Primarily, convenience and personalization.
Convenience
In a survey by Blackhawk Network, nearly one-third of respondents said they choose to purchase gift cards because it saves time. Now more than ever, convenience is a huge priority for both gift givers and receivers. For shoppers, purchasing gift cards online saves a trip to the store during the holiday rush. Online gift cards also allow shoppers to purchase outside of normal store hours, which could otherwise prevent some customers from purchasing from you at all. For recipients, digital gift cards have some convenience benefits as well. For one, recipients can store the gift card in their email or on their cell phone instead of having to keep track of a plastic card, which can easily be misplaced. In fact, 40 percent of consumers report having lost or misplaced a plastic gift card. 56 percent of consumers want to store gift cards on their phone. 74 percent of consumers 18 – 24 want to store gift cards on their phone.
Personalization
Personalization is also increasingly important to both gift givers and receivers. While many shoppers purchase gift cards because they allow the recipient to choose their own gift, a plastic card can also seem less individualized than a traditional gift item. The ability to customize digital gift cards with messages, photos, and designs is an influencing factor in the decision to purchase online gift cards.
Boost Sales
In addition to being an in-demand and attractive option for shoppers, online gift cards have several advantages for retailers, too. First and most obviously, it's an easy way to boost sales. Gift cards are a revenue-boosting opportunity for every kind of seller. 72 percent of gift card shoppers spend more than the original value of the gift card when shopping. That means for most gift card purchases you are making two sales and gaining two customers: the gift-giver at the original time of purchase and the gift card recipient when they redeem their gift.
Build Relationships
On top of boosting sales and gaining two-for-one customers, online gift cards are a unique opportunity to build customer relationships through multiple touch points. During online gift card purchases, you likely acquire the email addresses for both the buyer and recipient. Some online gift card solutions automatically send reminders to recipients to use the gift card and alert gift-givers when the card is received and opened. This type of messaging helps build trust with consumers and keep your store at the top of their mind. Of course, you can also add their email addresses to your database to send out promotions and newsletters.
Engage Through Multiple Touchpoints
When digital card recipients come into your store to make a purchase, it creates another touch point opportunity. Multiple studies show that connecting with customers on multiple channels leads to greater spend and greater loyalty. Additionally, conducting prior online research on a retailer's site leads to on average 13 percent greater in-store spending. By offering digital gift cards, you have the advantage of connecting with customers on your website and through email, leading to an in-store purchase.
There are many solutions available to small businesses that make offering digital gift cards a hassle-free experience. For example, if you use Square processing services, they offer a free digital gift card solution that can integrate directly with your existing dashboard. Yiftee (yiftee.com) is another program which charges a flat monthly rate but can be integrated into any website or Facebook page, and processed through any POS. If you have a PayPal business account, they also offer digital gift card solutions. Starting a digital gift card program is more accessible to small businesses now than ever. It is also more crucial than ever before. Offering these modern gift cards helps make sure you don't miss any sales opportunities, and can strengthen customer relationships for those who do buy. Start experimenting with different options now so that you are set up for a successful holiday selling season.