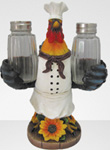 DWK Corporation offers hundreds of unique gift and home décor products. In business since 1999, the company offers multiple lines of merchandise, including salt and pepper sets, wine holders and picture frames, in several themes such as animals, fantasy, chef and western. DWK's products run the gamut, with something to suit every taste, from conservative and upscale to funky and wild.
Best sellers
"Our salt and pepper line sells extremely well, and we are expanding it," says Dave Kim, owner and president. DWK is currently designing a red high-heeled shoe salt and pepper set, which will be unveiled at the August ASD/AMD trade show. "We are also working on a sports themed set," Kim shares. Wine holders are also great sellers, he notes. As a result, the company offers a wide selection of both product lines, in many themes. DWK also offers animal statuaries, including dogs, cats, elephants, bears, roosters, wolves, tigers and buffalo, and introduced a popular zombie line last August.
Design leaders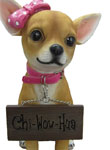 "We have a lot of different ideas, and we come out with 20 to 25 new products each month," remarks Kim. DWK has two full-time designers. However, its creations are a collaborative effort. "I try to get everyone involved, whether they are in the office or the warehouse, so that we all have a stake in our products. The zombie line was brought to us by one of our employees who is very big on Goth. Her office is decked out in gargoyles and dragons." DWK manufactures all merchandise at its plant in China.
The company's products are designed to create an emotional attachment, and often feature cute sayings and animals. "In terms of trends, we don't follow them as much as we try to craft items that will resonate with consumers year-round," Kim explains. For example, dog figurines sell well, and DWK is introducing a female Chihuahua with a pink bow and collar. "Pretty in Pink" will debut at the ASD show, and be available for purchase in mid-August. Retail will be around $24.99. "We have received positive feedback on the item throughout the stages of design, sculpting and painting, and we expect it to be well-received," Kim remarks.
Pricing and ordering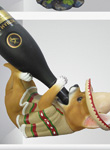 While the company prides itself on creativity and quality, DWK also has, "very attractive price points," Kim continues. Retail is typically double wholesale price, and volume discounts are available. The firm's products are packaged in colorful boxes, and many retailers showcase the items in these containers. The minimum order is $700. Goods are sold by the case, but DWK is flexible if retailers can't quite meet that requirement. DWK has in-house showroom facilities in both Ontario, CA and China, so retailers can experience the products first hand. Retail buyers can also visit DWK at the ASD/AMD show in Las Vegas in March and August.
Where to buy:
DWK Corporation
1250 E. Belmont St.
Ontario, CA 91761
Toll Free: 888-886-2568
Tel.: 909-923-1880
Visit:
DWK Corporation