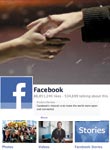 Facebook Inc. recently revealed a new look for its News Feed that provides a more visual, personalized appearance, similar to a well-curated magazine, says Facebook's director of design, Julie Zhuo. The updated feed also organizes content by type, such as "All Friends," "Photos," "Music" and "Following." The News Feed, which displays updates from friends and companies, is where users reportedly spend 40 percent of their time on the social network. With the new design, the News Feed looks the same, whether it is viewed on a desktop computer or a mobile device.
The redesigned News Feed could result in keeping people on the feed longer, a prospect that will be appealing to advertisers. Moreover, Facebook's revamped News Feed focuses on video, images and mobile, areas where marketers are increasingly looking to expand their investments in the next three to five years, according to a 2012 Altimeter Group survey.
Facebook says the News Feed revamp will not change the algorithm the social network uses to select what it considers the most relevant content in the "Top Stories" section of each Facebook user's News Feed. A Facebook user sees only a fraction of the content his or her connections post on the social network. However, marketers can use Facebook's Promoted Posts product to pay to ensure a certain percentage of Facebook users see its message.
The News Feed redesign is expected to present additional opportunities for Facebook to roll out new ad units, Facebook CEO Mark Zuckerberg recently said, "As our News Feed design evolves to show richer kinds of stories, that opens up new opportunities to offer different kinds of ads as well."