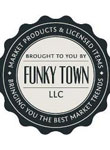 Nostalgic gifts continue to be all the rage, as people of all ages and tastes are drawn to products that showcase their favorite stars, characters and even candies. Funky Town LLC caters to consumers' penchant for period products with its selection of high quality gift products including blankets, drink ware, beach towels, bumper magnets and stickers, aprons, pillows and other home décor items. The company holds the merchandise licenses rights to Tootsie Roll, Boondocks Saints, Cheech and Chong, Radio Days, Rainbow Bright, Grateful Dead, Jail Guitar Door, Mitch O'Connell, Dick Figures, and other music and entertainment artists. "We pride ourselves on setting new standards in the design and marketing of licensed consumer goods that feature the most legendary entertainment properties," explains Manish Walia, VP of marketing at Funky Town.
"Our new line of Tootsie Roll merchandise is taking off," Walia says. The iconic candy brand, around since 1896 and among American's favorite treats

, is imprinted on eight to 10 products, the most popular of which are blankets, pillows and drink ware. Blankets wholesale for $11.50 each, pillows sell for $8.50 apiece, and glasses and straw cups wholesale for $6.50 each. Another new line Walia expects to be very popular for spring and summer is Funky Town's full color tumbler, which is made in the USA. "Everyone we show it to, loves it," Walia notes. For use with both hot and cold beverages, the 20-ounce tumbler wholesales for $6.50.
Coffee mugs are another popular gift idea, because they are inexpensive and capitalize on the trend for gifts that reflect a recipient's personality. Funky Town's new coffee mug floor display, available in limited quantities, is branded "Radio Days, The Vintage Lifestyle Brand." It holds 12 mugs, each featuring Jimi Hendrix, Van Morrison or A Hard Day's Night, for example. The display with 48 mugs wholesales for $180. Profit margins on all Funky Town's products are at least double wholesale price, Walia states. The minimum order is $150 and at least two pieces of one product must be included in an order.
Funky Town LLC is committed to providing the most innovative product offerings at the best possible prices, Walia emphasizes. Based in Ohio, with offices in China and India, the company works hand in hand with its core customers to develop and distribute exceptional products. The firm's distribution center in Los Angeles, CA, ships orders worldwide.
For more information:
Funky Town LLC
P.O. Box 13011
Fairlawn, OH 44334
Tel.: 330-439-0090
Website: www.funkytownllc.com