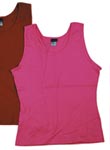 RG Riley & Sons, in business for over 80 years, is a family owned wholesale distributor of first quality closeouts and hand-graded irregulars in the apparel and activewear categories. Merchandise includes licensed sportswear, t-shirts, sweatshirts, sweat pants, golf shirts, hosiery and socks.
RG Riley services a wide spectrum of retail venues including discount, food and drug, dollar stores and general merchandise stores, flea market vendors and non-profit organizations. With 220,000 square feet of warehouse space, RG Riley always has a large inventory on hand.
The company carries merchandise from some of the leading U.S. manufacturers, including Hanes, Fruit of the Loom, Jerzees, Anvil, Gildan, Russell and Champion. Apparel and activewear is available in all sizes, from infants to plus size women and men.
The closeout advantage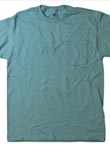 "Closeouts provide independent retailers an opportunity to buy products at a lower cost, and compete with the mass merchandiser," states Mike Riley, co-owner. Closeouts and irregulars offer merchants a range of quality and pricing, and are first quality goods that are generally excess merchandise from a previous season's production. They are the result of changes in color, design and fabric, or missed deliveries.
Irregulars are flawed garments that are the normal result of the manufacturing process. "If you look at the dynamics of having inventory in one color or one size, it is not as appealing as having inventory across multiple colors and sizes," Riley points out. "A really good assorted group of irregulars might be worth more than a bunch of first quality small." Closeouts and irregulars generally retail for less than first quality goods at the major retail stores, which is appealing to many consumers, and profit margins can be keystone or better.
Ordering highlights
Products are sold by the pre-pack case, consisting of 12 to 144 units, depending on the product. The company's dynamic website gives users the ability to browse its online catalog, check packing details and product availability, view photos, build a shopping cart and complete orders. Online inventories are updated in real time. "We have a link called 'Recent Packings,' so our customers can stay up to date with our newest products," Riley shares. "We also offer specials and clearance items that we are liquidating beyond our already low prices." All items ship from the company's Tinley Park, IL, headquarters or its Martinsville, VA, facility.
RG Riley & Sons Inc. will be exhibiting August 4-7 at ASD Las Vegas. The company invites buyers to visit booth SU3224, where they can meet sales staff, handle garments, take advantage of show specials and promotions, and place orders.
Where to buy:
RG Riley & Sons Inc.
17700 Duvan Drive
Tinley Park, IL 60477
Toll Free: 877-576-5447
Website: www.rgriley.com