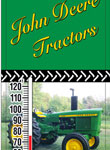 Heritage America Gifts, by Morco, manufactures a unique line of products designed, printed and produced in the USA. The company's assortment of gifts and souvenirs includes thermometers, rain gauges, slate clocks, license plates, clipboards, paper clips, switch plates, rulers and bag tags.
Just in time for the holidays, Heritage America Gifts expanded its line of best selling thermometers, with the addition of a new craft series. The thermometers allow budding artists, young and old alike, to create permanent, personal designs. "It is a new concept for us, and we expect it to be a big seller in the next quarter," says David Hart, company president.
Signature products make unique gifts

Heritage America's thermometers, available in three sizes, continue to be popular gift buys with both consumers and businesses. The indoor/outdoor thermometers, with full color imprints that will not fade, are made of heavy plastic that will not rust. Eco-friendly, the thermometers do not contain mercury. They are solar powered by day and lunar powered at night. The 20-inch thermometer wholesales for $7.75 and retails for $15 to $18.
The company's paper clips are available in two sizes and can be used in a variety of capacities. "They work anywhere. You often find them in the kitchen on the refrigerator, holding up kids' artwork or notes, and clipping bagged foods closed to keep them fresh," Hart explains. The large paper clip wholesales for $3.50 and the small paper clip wholesales for $1.25. "For back-to-school, the ruler is a nice item, because it can be personalized to any child's taste. The bag tag is great for a backpack." The ruler wholesales for $1.45 and the bag tag wholesales for $1. Retail pricing for Heritage America's merchandise is generally keystone.
Heritage America's products make great gifts because, in addition to being affordably priced, they are high quality and functional. Its selection of around 15 items is available in more than 120 designs. "Any of our graphics can be modified to fit the items retailers are interested in for their customers," Hart points out.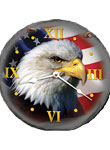 "Our wide spectrum of graphics includes agriculture, floral, inspirational, military, patriotic, songbird, wildlife and state," Hart notes. The company presently has designs for 43 of the 50 U.S. states. It also recently added a canine group, as well as photos of old John Deere and Minneapolis Moline tractors restored by local residents, to its agriculture theme. Furthermore, Heritage America Gifts extended its songbird series and now offers both an informational line, with details of the birds' statistics and habits, and a photo series. "They have been very well received, and our Patriotic series is always hugely popular. We offer quite a mix, and we continually add more designs to give retailers options to suit any taste or décor," Hart continues. Heritage America Gifts welcomes suggestions for new graphics.
Ordering highlights
Retailers can call the company to obtain a wholesale catalog and price sheet, but Hart recommends buyers check the website for the most up-to-date designs. The minimum order is one case of 25 pieces, and customers can mix and match designs. For name drop printing, there is a two case minimum and a set up fee. Products are generally delivered within ten business days.
Where to buy:
Heritage America Gifts
125 High Street
Cochranton, PA 16314
Toll free: 800-247-4093
Website: www.heritageamericagifts.com