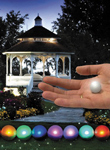 Fortune Products brings professional quality battery operated LED products to retailers at an affordable cost. Based out of Lake Stevens, Washington, Fortune Products specializes in designing unique LED items for parties, events, home décor, weddings, and more. Sales manager Greg Hayenga says professional party planners and celebrity wedding planners use their LED décor, furniture, candles, and lighting in their designs. Many of their products are unique trademarked and patented designs, meaning they can't be found anywhere else.
LED products have surged in popularity over the past several years because they are up to 80 percent more energy efficient and last longer than traditional incandescent lighting. LED lighting is also safer and cooler in temperature than traditional lighting. These properties allow for the lighting to be used in more creative and functional ways.
Light My Bottle™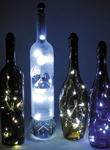 Light My Bottle™ is a trademarked and patent-pending creation from Fortune Products. The product instantly turns wine, liquor, or any other larger empty bottle into a lighted décor piece. The string of 15 fairy lights is attached to a rod that holds batteries and the on/off switch. Insert the light string and battery holder into the bottle. The battery holder stays in the neck of the bottle so the on/off switch pokes out of the top. In addition to being pleasing to the eye, this décor and novelty item is a consistent top seller that makes a great addition to almost any retailer's inventory.
Fairy Berries® are tiny ¾" diameter clear balls that create a soft, welcoming, and fun environment for any gathering. Hayenga recommends them for lawns, gardens, trees shrubs, and water surfaces where the Fairy Berries® float. The lights can also be strung up by fishing line to decorate walls, ceilings, trees, etc. The battery-operated balls produce a glowing LED light that slowly fades on and off. Fairy Berries® are available in white, red, blue, green teal, amber, yellow, orange, pink and purple. These are another small yet engaging item that can be easily incorporated into a retail display.
Fortune Products has collections of MOD Cubes and their new Pro Cubes can be used to build a unique and engaging aesthetic for any party or event. The MOD Cubes are 24", made out of durable polyethylene, and can be used to build a bar, seating area, or decoration. The Pro Cubes are available in four different sizes and are programmed to offer sixteen different color choices, four operating modes, and brightness control. This product does best in party stores and larger retail spaces.
Custom Options
Fortune Products can print logos, messages, and vector images onto many of their products. This is an excellent option for souvenir, gift, and tourist retailers, or retailers looking to build a brand name. Fortune Products has a diverse range of products from inexpensive to high end. Their catalogue is always changing; they add many new products each year to keep up with trends and customer demand.
How to Order
Fortune Products is strictly wholesale, and does not sell their products directly to consumers. "We don't have any pseudo names or storefronts we are doing business under," says Hayenga. "This helps us put profits in retailer's pockets, because our customers never have to compete against us under another name." For more information and to place an order, call 800-345–4833 or visit them online at www.fortuneproducts.com.