By Lisa Evans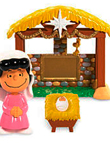 Act now to get this year's best entertainment licensed Christmas products on your store shelves in time for the holidays! Released Nov 6, 2015, 20th Century Fox's 3D film version of the classic Charles M. Schulz Peanuts® characters brings back the sweetly nostalgic underdog, Charlie Brown and his valiant and endearing beagle, Snoopy. Sure to be on every young person's wish list, the brand new Peanuts ® Deluxe Nativity Set captures the love of the season together with the appeal of a favorite toy.
Jere Miller of New Day Distributors is no stranger to the world of selling wholesale children's play sets. "We're an independently owned family shop, in business now for 35 years. We're like an extension of the mom and pop retail stores out there because that's exactly who we are, too." New Day Distributors has been in the hardline gift business for well over a decade and has had great success in supplying their clients with high quality, fast-selling holiday items. In fact, Miller laughingly recounts his recent sell-out of another popular holiday set. "We ordered 15,000 of them," he says, "and they were all sold by the time the shipment came in!"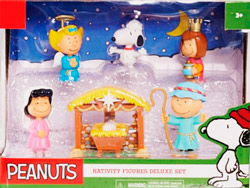 Miller is excited to offer the Peanuts® products this holiday season to his retail clients. "We all know the Peanuts® are going to be a big thing this year, especially with the movie out now, and for the store owners it's like giving out little pieces of candy. Once they put these sets out on the shelves, people see them, and they come back wanting more. That's how it works."
More is cerainly what shoppers will get with this fun and family-friendly play set. Charlie Brown and the gang are all here in a charmingly styled collection. The deluxe set includes 7 pieces: the 5 lovable characters of Charlie Brown, Snoopy, Sally, Lucy, and Peppermint Patty, plus the star-bedecked manger and cradle. At just $15.00 wholesale with a recommended retail price of $29.95, your store is guaranteed a quick and profitable turn-around with these popular items.
Also available is a Peanuts® coloring book, entitled "Merry Christmas Charlie Brown." Offered at just $4.00/unit wholesale with a retail price of $7.99, the coloring book makes a perfect companion to showcase along with the nativity set.
These top-selling products are in stock now and immediately available through New Day Distributors, with same-day shipping available. Call Jere Miller at 800-251-3633 or visit www.newdaychristian.com to set up an account and order online today.