by Meaghan Brophy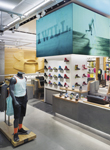 Cubic Visual Systems founders Scott Parizek and Chuck Schaefer spent many years traveling Asia and Europe, attending trade shows and investigating factories to find the perfect product to bring back home to the United States. Eventually, Parizek discovered a company called Cubic. He was simply astonished by the affordability, modular design and sophistication of their retail store fixtures. After falling in love with Cubic's designs, Parizek and Schaefer secured distribution rights to bring the company's products into North America.
Cubic Visual Systems merges European design with Chinese manufacturing to provide a sophisticated product at an affordable price. Their retail display solutions are made out of recycled aluminum, and strive to be eco-friendly. Cubic Visual Systems provide a variety of display elements, including floor and tabletop racks and stands, signage options, frames, furniture, unique shoe displays, and custom designs. One of their most popular solutions are display shelves with lighting built directly into the bottom, so that light shines directly onto the merchandise displayed on the shelf below. Another best-selling item is their custom-designed wire hanging basket. Their products are reconfigurable, so they can be adjusted for seasonal and inventory changes.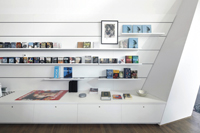 For new customers, or retailers looking to redesign their interior, Cubic Visual Systems recommends their "complete store in a box" option. For this solution, they pack one 40′ container with a complete wall system. This packaging allows for easier delivery and retailers can set up the display to their liking. Any of their floor and table fixtures can also be added to this package.
Cubic Visual Systems helps stores with boutique and luxury atmospheres achieve a sophisticated and simplified modular retail design at an affordable rate, with and end goal of amplifying the presentation of storeowners' products. For more information and to view sample designs, visit www.cubic-us.com.