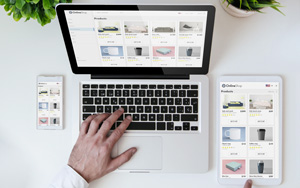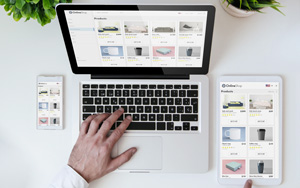 by Amanda Jerelyn
According to a study conducted by Jessie Hagen of U.S. Bank, 82% of businesses fail due to cash flow problems. Thus, businesses aim to maximize their profitability by cutting down costs and increasing sales. However, in the competitive business world today, increasing sales isn't easy. Businesses have to do all that they can to generate more leads and convert them into customers.
There is so much that business owners can focus on to improve their lead generation and sales. Out of all that can be improved, here are five tips that can help retailers achieve this task:
Call To Action
Use only one call to action (CTA) instead of multiple. According to the Vice President of Marketing at Toast, "Emails that had a single CTA increased sales by 1617% and the click-through rate by 371%." Add CTA's to relevant website pages such as blogs and landing pages. In fact, Hubspot reported that adding anchor text CTA's increased the view-to-lead conversion rate by 121%.
Hyperlink the CTA's to take visitors to the relevant pages. Also be sure to use a font color that contrasts with the color scheme of your website, so the CTA stands out. According to SAP, "An orange colored CTA boosted the conversion rate by over 32.5%, while a red CTA boosted the conversion rate by 21%."
Landing Page
Be direct about what your business is offering and emphasize the benefits of your products while keeping the form simple. Be careful about where you position the information. Adding images and graphics can also catch the visitor's attention. Eyeview reported that adding videos to landing pages can increase conversions by 86 percent. Keep the content of your landing page short and sweet so it's readable and can easily be scanned. The landing page's headline should also match the CTA.
Optimizing The Website
Having a responsive website is crucial. Green Geek said "Websites that are optimized for mobile usage are trusted by 51 percent of customers. Reducing the load time of the website can also help with this so the visitor doesn't have to wait long. Millennials and Gen Z are known to have shorter attention spans and will abandon a page if it takes too long to load.
Make sure to use strong headlines, visible CTA's and high quality images. Give the design extra attention and detail as well as the development process, user flow and navigation to make the user experience smooth and effortless. The first impression always counts.
Content
It's important to use statistics, accolades, customer testimonials and data points to build credibility. In this case, quality content can matter a lot more than the quantity. Also be sure to check the web analytics to make calculated decisions about the type of content you should put up depending on the response of the visitors.
Guest blogging is another way to boost content wisely, and can be fun for viewers to read, depending on what you upload. Adding relevant images, videos and infographics can help support the content of your blog post. According to the NN Group, "Eye-tracking studies showcase how visitors paid more attention to and preferred images over written content."
Marketing Strategy
Opt for multichannel marketing for a wider reach. Demand Metric Research Corporation reported that content marketing (67%), event marketing (73%), and email marketing (78%) are the most common strategies employed by B2B firms to generate leads. This can be done by creating quality content to engage your audience and effectively communicate your message.
Email marketing is an effective strategy to keep your potential, current and past customers in the loop with the latest promotions, products and services for higher chances of conversion. Marketing on social media can help generate leads since so many users utilize those platforms as a way to shop and find new products. Collaborating with industry influencers can help your engagement, following and conversions.
Keeping the design short and clean can greatly help with user readability, since attention spans are getting shorter and shorter. Typical readers can a webpage in a 'Z' or 'F' pattern, so ensure that important content is optimized accordingly. Leaving the right amount of white space on your webpage is also crucial.

Amanda Jerelyn likes to keep on top of digital marketing trends and statistics. Currently, she is working as a Digital Marketing Tutor at King Essay. She also used to work as a Digital Marketing Consultant for the FreeEssayWriter.