by IvyLee Rosario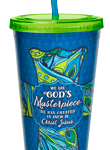 Incorporating traditional design elements like block lettering, feathers and bright colors, the talented designers at Kerusso keep their Christian t-shirt collections trendy and attractive while simultaneously supporting their Christian message. "Anybody can create a product that has scripture or a Christian saying on it but here at Kerusso we live it," explains Jason Anzalone, Director of Marketing. "This is how we live our lives."
Kerusso is proud to share their values with their retail clients, frequently surveying over 1,000 of their repeat customers for ideas and inspiration. "We make it our goal to see what is really trending out there, what are the top pins on Pinterest, and then from there we craft our concept," says Lorri Carter, Vice President of Creative Development.
Their top selling collection, Cherished Girl® has a new line debuting in January 2016, featuring the company's very first "mom" shirt, made specifically for the everyday Christian mom. The shirt sports handwritten text and birds and is sure to be a big hit for Mother's Day. Inspired by the Cherished Girl® idea, Kerusso branched out to develop a complementary branded line of hard products, including mason jars and tumblers. "Throughout the entire year there has been an obsession with mason jars, so we decided to design our own line of drinkware that would compliment some of the t-shirts," notes Carter. "They are very colorful and fun with inspirational messages or pictures and it is something different from what we usually do."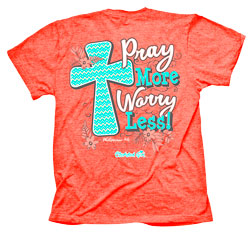 Kerusso takes pride in developing a perfect balance between sharing faith openly with the world all while remaining respectful of the beliefs of others around you. "We get stories of people who have a conversation with someone about Christ or God or scripture because of what they wear. We aim to sell inspirational products that target the market with scripture, songs, and sayings on them based on Christian concepts," says Anzalone. "To be able to help people share their faith without yelling it at people is very important to us. It is a good way of getting your ideals across while opening up conversation to those who may be interested."
The minimum product order for new Kerusso customers is $250. Kerusso offers recommended assortment packages of t-shirts but retailers may also choose their own preferred designs. The suggested retail price for Cherished Girl® t-shirts is $16.99 and shirts are available in sizes small to 3X. For a full look at the Cherished Girl® line or other products from Kerusso, please visit www.kerusso.com.