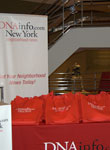 Small business owners had the opportunity to learn how to get more people into their shops and grow their businesses when they attended a new annual conference this October. The Online Marketing Conference, presented by DNAinfo.com, New York's neighborhood news provider, and Street Fight, a media, events, and research company focusing on hyper-local content, brought together knowledge experts from Google, Yelp, Foursquare, Constant Contact, LevelUp and other digital firms to share their marketing tips and advice.
"People are bombarded with many options for marketing and they don't have the time or understanding of what's valuable and what's not," explained David Hirschman, co-founder of Street Fight. "Small businesses get hundreds of marketing-related calls," added Leela de Kretser, editorial director and publisher of DNAinfo. "This conference is designed to help them make sense of it all." About 150 businesspersons attended the conference, held at New York's Rubin Museum of Art. Google Community Relations Manager Alex Abelin was the keynote speaker and discussed "Search Engines, Local Discovery and Small Businesses."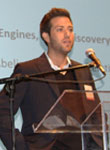 "Online matters," Abelin began. "It is not a fad and it's important to be on top of it." More than two billion people are online, 52 percent of cell phone carriers in the U.S. have smartphones and Facebook cleared one billion users last week, he explained. By 2013, more people will use mobile phones than computers to get online, and by 2015, there will be one mobile device for each person on Earth. "Ecommerce is growing faster than High Street, and it's critical to be there." Still, more than half (58 percent) of all small businesses in the U.S. don't have a website, rendering many of those businesses completely invisible where people are looking for them.
"There is a local search trend, with one in five searches having a local intent," Abelin stated. "Local really matters–and people find local merchants online." Google is developing products geared to help small businesses, he continued. Search is a tremendous vehicle and SEO (search engine optimization) is free and natural. With eight percent of clicks happening on the first page, it's important to optimize your website's content so it places high in a search. Abelin offered the following tips to get found quickly by a search engine:
Google rewards a personal tone, so use your own voice when writing content.
Make sure the content is authentic.
Use important key words and keep content fresh.
Use Google Webmaster tools. You can submit your site for free to learn how Google sees your site.
In addition, Abelin suggested incorporating the following strategies to promote your site:
Use email in the right way. For instance, "Don't say, 'Hi Alex,' unless you know me."
Use social media.
Put your website address on your receipts.
Give people an incentive to visit you online.
Ask happy customers to recommend your site. "It's becoming increasingly important to have good customer reviews," Abelin noted.
There has been a shift from traditional advertising to Google advertising, Abelin pointed out. With AdWords Express, launched last year, small businesses can dip their toes into the water and advertise online on a small budget. When people search Google for the products or services you provide in your area, an ad for your business will appear above or beside their search results. Your business also will be marked with a blue pin on Google Maps, Abelin explained. AdWords Express's costs, which vary greatly, are based on the keywords you choose combined with your quality score. You are charged when someone clicks on your ad, not when it is displayed. "Small business terms are generally more affordable than big business terms," he shared, and "you can set a budget for how much you want to spend monthly." The "Secret Sauce" for Google AdWords, Abelin revealed, is your click through rate plus the relevancy of keywords to your site plus landing page functionality. "Google advertising becomes cheaper as your quality score grows."
Humans are social and Google+ is an effort to get the Web more social, Abelin remarked. Google+ features include "Circles," which allow you to craft different messages to unique audiences, such as friends or business associates, and "Hangouts" which are video chats with up to 10 participants. Google alerts are another useful tool. They can be set to your business name so that when it is mentioned on the Web, you receive notification and can manage your reputation. You also can get Google alerts about competitors to maintain a sense of what is being said about them and what they are doing.
To make it easy for small businesses to create an online presence and funnel business to their physical locations, Google, along with ASBDC, Score, Intuit and over 500 local partners, created "America Get Your Business Online" (GYBO). Now available to firms in all 50 states, GABO gives small business owners the following, for free:
Easy-to-build Intuit websites,
Customized domain names,
Web hosting for one year and
Online tools and training
The impact of being online is real—businesses that make use of the Web are expected to grow 40 percent faster. It's more important than ever for offline businesses to become visible online to customers and to potential customers searching for them.