by Meaghan Brophy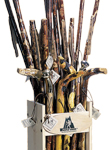 "We've been in business for over 30 years and we're going strong," says Jimmy Marler, Owner of Whistle Creek. Whistle Creek is a rustic walking and hiking stick manufacturer based out of Arkansas. All of their products are completely made in the United States, "with the care you would expect from an American craftsman."
Whistle Creek offers over 50 styles of walking and hiking sticks manufactured out of various wood types including hickory, sumac, hawthorn, sassafras, oak, and seasonal plants such as the desert candle. Their classic hickory sticks are by far the most popular model. "It really is, and always has been a great seller," says Marler. In addition to their classic line, Whistle Creek has a Tracker series with paw-printed leather straps, a Country walking stick series with rounded handles, an American Craftsman series with a flattened handle, a Discovery series with a twisted design carved into the stick, a Wildlife series with an animal and their corresponding print or feather carved into the knob on top, the Planter's series with tree seed packets attached so hikers can plant on their journeys, and a Hand-Carved Aspen series that are crafted by a retired high-school principal in Colorado. "Each stick features a leather string and a high quality rubber tip," explains Marler. "We can also do custom laser engraved fobs with logos or customers' artwork."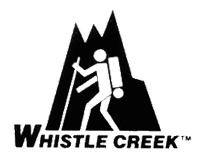 Whistle Creek takes great pride in their walking and hiking sticks. "If anyone is not satisfied for any reason, we offer free replacements, no questions asked," says Marler. "There are a lot of different aspects that go into making the sticks, which a lot of people don't realize," he continues. "We go through a lot of processes and quality control. We have to straighten a lot of them, for example." Whistle Creek is currently selling their products in thousands of retail locations nationwide. "Apparel, hardware, gift shops, camp stores, nature centers, outdoor stores, and specialty shops all do well with our products," continues Marler. "We really cater to everyone."
In addition to their sticks, Whistle Creek also offers a popular survival kit. The entire kit is packed into a sardine can, and contains camping and outdoor essentials such as a compass, whistle, band aid, matches, fire starting cube, a fish hook and string, ibuprofen, a pencil, safety pin, antibiotic ointment, duct tape, and more. "It makes a great gift or stocking stuffer," says Marler.
For first time customers, Marler recommends starting out with the survival kits, and the extreme value pack, which contains a mix of 25 different sticks. "It's a great way to try out several of the products, see what sells best, and restock accordingly," says Marler. All opening orders also come with a free display. Order minimums are $100 for sticks and $84 for a 12 pack of the survival kits. Walking and hiking sticks cost on average $14 – $16 wholesale, and the recommended retail price is $28 – $30.
To view their collection of sticks, survival kits, and add-ons visit www.whistlecreek.com.